DifferenceMaker director, entrepreneurship professor discuss new business trends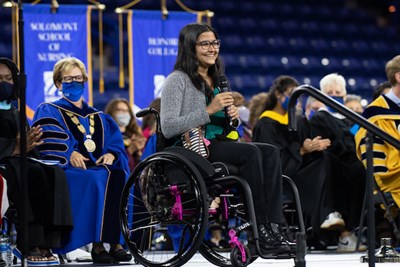 For all the damage the pandemic has done to the economy, there has been an unexpected bright spot: a surge in entrepreneurship, which had been on a 40-year decline in the United States.

According to data from the U.S. Census Bureau, aspiring entrepreneurs filed paperwork to start 4.3 million businesses in 2020 — a 24% jump from the previous year and the highest volume of applications since tracking began in 2004. In 1980, 12% of employers were new businesses; by 2018, that figure was down to 8%. 

In Massachusetts last year, there were 74,662 new business filings, a 33% increase over 2019. Middlesex County — home to UMass Lowell — led the state with 15,270 applications, which was up 7.3%.

At UML, students can engage in entrepreneurship, innovation and creative problem solving through the Rist DifferenceMaker Institute, a campus-wide program that is celebrating its 10th anniversary this month. Over the past decade, DifferenceMaker teams have spun off 40 companies, attracting $5 million in funding and generating over $4 million in revenue.

DifferenceMaker Director Holly Lalos '11, '12 believes there are several factors behind the entrepreneurial upswing during the pandemic, which is estimated to have wiped out roughly 10 million U.S. jobs.

Lalos says people who were laid off, particularly from large companies where they may have felt "like a number," realized they would be happier being their own boss.
 
"When you start your own company or work for a start-up, you feel important and in charge," she says. "You can see your impact and progress."

The pandemic has also spurred an unprecedented need for public health and biotech innovations, from COVID-19 vaccines and treatments to personal protective equipment.

Lalos notes that the winner of last spring's DifferenceMaker $50,000 Idea Challenge was TrueFIT, a mask-fitting and sealing solution that adheres to any commercially available facial covering.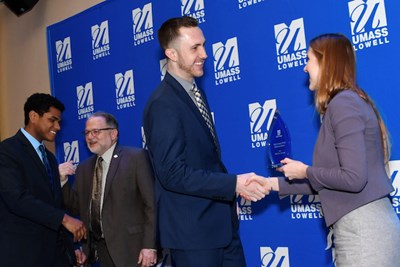 "Their solution arose from the pandemic, but the team soon found out through their DifferenceMaker research that their idea had applications to other industries such as construction and health care," Lalos says. "They will be able to make a positive impact in various industries, which is amazing."

Thanks to shows like "Shark Tank" and the celebrity status of start-up founders such as Elon Musk and Jeff Bezos, Lalos says students today seem to be more aware of entrepreneurship as a career path. But she has also noticed a heightened awareness of social entrepreneurship, particularly in light of recent social justice movements.

"Students want to make a change and help solve those problems to make the world a better place, which leads to social entrepreneurship with nonprofits," she says.

Nana Younge '18 embodies that trend. Younge, who addressed incoming students at this year's Convocation ceremony, founded the nonprofit Get Girls Going with help from the DifferenceMaker program to encourage Black teenage girls to become entrepreneurs. The organization runs an intensive six-week internship program to prepare teens for success in their careers.

Subscription Success

While the pandemic has created conditions that are ripe for entrepreneurship, not all of those businesses will get off the ground, let alone succeed.

Sunny Li Sun, an associate professor of marketing, entrepreneurship and innovation in the Manning School of Business, studies how new ventures can survive a crisis such as the pandemic.

His current research, conducted with Ph.D. in entrepreneurship candidates William Zhou and Peiyi Jia, shows that companies with subscription-based business models — such as Netflix, Peloton and Spotify — have proven much more viable and resilient during the pandemic.

"The pandemic has not hurt these companies' business models; it actually made them stronger," says Li, who has looked at close to 900 businesses that went public from 2009 to 2019. Of those, about one-third are subscription-based.

"We found that subscription businesses have a lower risk and lower volatility compared with the overall stock market," says Zhou.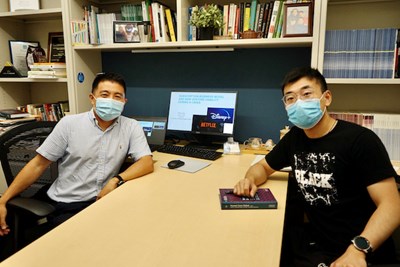 Zoom, which emerged as a dominant video teleconferencing software platform during the pandemic, had its initial public offering in April 2019. Li says one element that sets Zoom apart from competitors such as Cisco and Microsoft is its subscription model, which includes free access for the first 45 minutes.

"Zoom is easy for customers to learn. With Cisco, you need to install hardware and have IT support," he says. "And with the first 45 minutes free, they don't need to spend money on marketing and advertising. It's like viral marketing."

Advances in cloud computing have also made it easier for new businesses to get off the ground and compete, Li says.

"Twenty years ago, if I wanted to start up a business, I needed to buy a server and install software and hire people to run it. It's easier for the new generation of entrepreneurs to get started," he says.

Similarly, cloud-based e-commerce platforms such as Shopify have made it easier for entrepreneurs to collect payments.

Li notes that invisaWear, a wearable safety device company that got its start with the DifferenceMaker program, uses the Shopify platform for its online sales.

"The cloud is one reason why we have a new business model during the pandemic," he says. "It has changed our entrepreneurial ecosystem."

When it comes to the regional entrepreneurial ecosystem, Lalos is proud of DifferenceMaker's ongoing contributions.

"DifferenceMaker helps students define problems they care about and develop sustainable solutions to those problems," she says. "It's a safe place to fail and try again. And it's a competitive advantage for our students when looking for jobs. Companies want to see employees with creative problem-solving skills and an entrepreneurial mindset."