Projects address pandemic-related challenges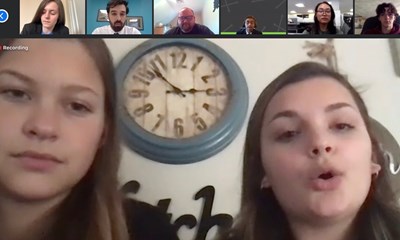 Four teams of area high school students got some expert advice from UMass Lowell entrepreneurs while competing for a $500 first-place purse at the second annual DifferenceMaker High School Idea Challenge.
Westford Academy seniors Aashi Akare and Meghana Edpuganti took home first prize for "Signal Map," a device intended to help WiFi users. 
As with the other student proposals, the duo's project addressed needs that either were born of or grew during the coronavirus pandemic. Signal Map was designed to help those dealing with bandwidth limitations due to homebound students, parents and gamers using the internet at the same time.
For the second year, the Rist DifferenceMaker Institute invited students to pitch their ideas to a trio of student and alumni judges, offering budding entrepreneurs a peek at UMass Lowell's signature student entrepreneurship program. This time, of course, it took place virtually.
"It's really an incredible chance for our students to get some expert feedback, and get it from judges who are empathetic, making them feel comfortable and that their ideas matter and could potentially solve a real problem," said Westford Academy business and marketing teacher Gina Mustoe.
"We'd always wanted to get out into the community to share what we're doing with younger students," said UMass Lowell Entrepreneurial Initiatives Program Director Holly Lalos. "We first met with Gina about coordinating efforts three years ago, and she implemented a lot of entrepreneurship ideas into her classroom. It branched into other schools, too."
Lalos says there are numerous benefits that result from the collaboration, including getting high school students to think like entrepreneurs. It also exposes them to the DifferenceMaker program and the university. 
"Partnerships like this raise awareness of what UMass Lowell offers," she said.
Last year, before the pandemic lockdown, students were invited for lunch and a tour of the Innovation Hub in downtown Lowell, "and we hope we can do that again soon," Lalos said. 
The Wind Up and the Pitch
Each team had five minutes to pitch their product or service and then fielded judges' questions for 10 minutes.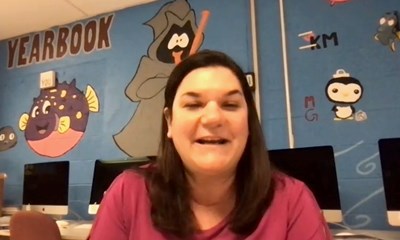 The panel of judges included Rajia Abdelaziz '16, co-founder and CEO of the successful security jewelry company InvisaWear; Tyler Cote '18, co-founder of Operation250, a nonprofit that offers educational programs to protect youth from encountering threatening material online; and senior economics major Tatiana Tompkins, who has worked with two DifferenceMaker teams.
"We want you to think of this as a safe space and we're not here to be super-critical," Tom O'Donnell, UML's senior director of innovation initiatives, told the students. "We want to be helpful and provide feedback. We want you to enjoy this."
This year's other entries included runner-up and $300 winner Clean Crate, a grocery delivery subscription service app designed by Chelmsford High School's Ganesh Danke; third-place and winner of $200, Insulwatch, a glucose-monitoring system by Mia Gaglione and Ava Gilligan of Tewksbury Memorial High School; and Pandemic Pack, a survival kit designed for life during coronavirus that was created by Abigail Eastman and Catie McNally of Nashoba Regional High School. They won an honorable mention for their entry. District 5 of the Distributive Education Club of America supplied the prizes.
Judges offered the students constructive criticism, often personally identifying with pitches.
"I've definitely experienced the problem first-hand," Abdelaziz told the winning team after their presentation, noting that at her family's home, there were often six people sharing the WiFi.
"I love the idea," she told Danke about his grocery service. "At the beginning of the pandemic, I was petrified of going to the supermarket."
O'Donnell reminded the high school students there is "no straight path to becoming an entrepreneur."
The students were glad they participated. "It was a really good experience," said Edpuganti.
"It was also inspirational to hear what the judges had done themselves," Akare said.
Since 2013, the DifferenceMaker program has reached nearly 60,000 students, awarded $470,000 in prize money, and its teams have raised $5 million and been issued or filed for 10 patents.