UML distance runner races to back-to-back All-American performances
The night before the biggest race of her life — the final of the women's mile at the 2021 NCAA Division I Indoor Track and Field Championships in Fayetteville, Arkansas — UMass Lowell's Kaley Richards spelled out her goal in her journal.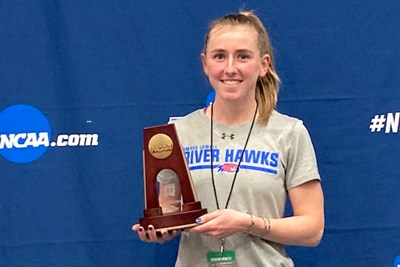 "I wrote that I wanted to finish in the top eight and be an All-American," says Richards, a Lowell native and Manning School of Business graduate student who had already become the first River Hawk to ever qualify for the Division I indoor championships. 

Competing against runners from big-time programs such as Arkansas, Ohio State and Colorado, Richards achieved her goal by finishing fourth with a personal best time and new school record of 4 minutes, 36.26 seconds — becoming UML's first-ever indoor Division I All-American.

But she wasn't done making school history. After the race, Richards and her coach, Gary Gardner, jumped in a rental car and drove 175 miles due west to Stillwater, Oklahoma, where the NCAA Division I Cross Country Championships were being held just two days later.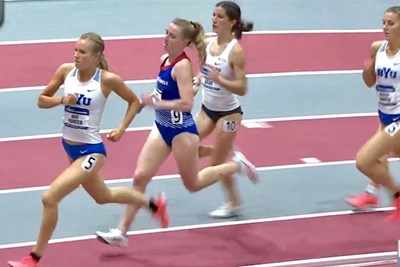 There, Richards became the first member of the UML women's cross country program to earn Division I All-American honors by finishing 30th in a field of over 200 runners in the 6 kilometer final in 20:46.9. She passed 10 runners down the stretch to guarantee a top-40 finish — the cutoff for All-American.

"This sealed up probably the best weekend in school history," Gardner said after Richards' back-to-back All-American performances. "I can't imagine anything better than this."

Richards barely had time to consider her achievement, as she immediately turned her attention to the spring outdoor track and field season upon returning to campus.
"Everything's been so go, go, go recently that I really haven't tried to take the time to think about it," she says. "But I accomplished a lot that week. It's a good feeling."  

The cross country and indoor track national championships aren't normally held in a 72-hour span. But because of the COVID-19 pandemic, UML's cross country season was postponed from fall to winter, while the indoor track and field season was canceled.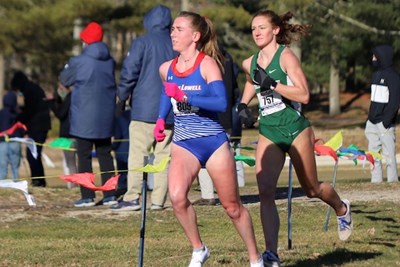 "My training was for cross country. I didn't expect to run indoors at all until the opportunity came up to qualify for nationals," says Richards, who received permission from the Athletic Department to travel to Winston-Salem, North Carolina, in February for a qualifying meet. She punched her ticket to nationals in the mile with a personal best-time of 4:38.36.

"Being the first UML athlete to qualify was special; being the first female made it even more special," she says. 

Richards was an All-State champion in cross country and track at Lowell High School, setting school records in the mile and 2 mile. While she was recruited by several more established programs, she chose to attend UML, which had recently elevated to Division I and where her sister, Marissa Richards '19, had run for the River Hawks while earning a nursing degree.
"I'm a homebody — I can't imagine not being near my family — and I wanted to go to a school where I knew I'd get better," Richards says. "We may not have all the resources of the big-name programs, but our Athletic Department does a fantastic job supporting us. We're kind of a blue-collar team — we all put in the work — and there's something about that, and representing Lowell, that makes it more special to me."

Richards, who earned her bachelor's degree in public health, was slowed by injuries as an undergraduate. One injury sidelined her for four months.

"That was like a complete reset for me mentally. It made me realize how much I do love the sport. I was so excited to get back," she says.

"We knew we had to be patient with her because she had the talent to be an All-American runner," Gardner says. "It was just a process of building her up — not just physically, but more importantly, her confidence. You can see that each year the confidence in her ability has grown — to the point now that she believes she's as good as anyone in the country."
Richards says her goal in outdoor track this spring is to qualify for nationals for the first time. She has eligibility remaining to compete in next year's cross country and indoor track seasons while completing her MBA. She would like to run professionally after college, but she hasn't settled on a post-running career.

"I love health care, and the MBA helps me with a number of different skills. It's a good combo," she says.

While the pandemic has wreaked havoc with every team's schedule, Richards is thankful that she could always put on a pair of shoes (and a mask) and go outside for a run.

"It's the one sport you could keep doing, and it was a nice distraction," she says. "Watching the news, it's been a scary time. So getting out every day for a run, it just kept me thinking long-term. I want to do this every day because I want to be good in the future."

And the hard work continues to pay off.

Richards was named America East Female Track Performer of the Week after finishing third in the 1,500 meters with a personal best time of 4:16.56 at the first meet of the outdoor season in Raleigh, North Carolina.