'OERscar' Awards recognize professors who use free or low-cost course materials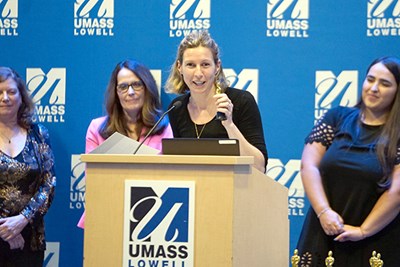 "Why isn't our textbook listed on the syllabus yet?"

Of all the questions that Johanna Tigert, an associate professor of curriculum and instruction in the School of Education, gets from her students at the start of each semester, this one is her favorite.

"I can say, 'It's not listed because there is no textbook,'" says Tigert, who is among a growing number of UMass Lowell faculty to adopt free or low-cost digital textbooks and open educational resources (OERs) in their courses.

OERs are teaching, learning and research materials in any medium — digital or otherwise — that are in the public domain or have been released under an open license that permits no-cost access.

To thank faculty members like Tigert who help save students money on textbooks, the university's MASSPIRG chapter and Student Government Association (SGA) recently co-hosted the second-annual "OERscars" award ceremony at Moloney Hall.

Nominated by students, 37 faculty members received shiny OERscar statuettes — along with the appreciative applause of nearly 100 in attendance.

"A lot of students struggle to afford books, so it's fantastic that so many faculty members are eager to help students," said MASSPIRG Chapter Chair Ashley Greene, a sophomore English major with a journalism concentration from Uxbridge, Massachusetts.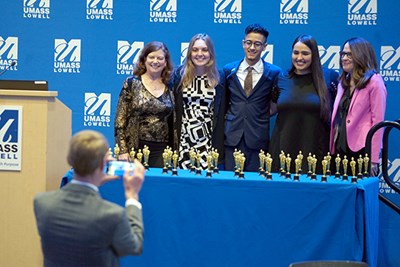 "It's heartwarming that these professors are taking the time to make OERs. It really makes a difference," added co-presenter Valeria Saldana, SGA chair for campus life and environment and a senior from Revere, Massachusetts, double-majoring in public health and Spanish.

Next year's ceremony promises to be even bigger. To encourage the use of OERs in more undergraduate courses, the Provost's Office is offering OER Faculty Grants of up to $5,000. Grant recipients will receive individualized support from library staff and a faculty leader on finding, using and publishing an OER.

Several OERscar recipients shared their motivations for finding affordable alternatives to traditional textbooks.

Assoc. Prof. of English Bridget Marshall recalled her own struggle to pay for textbooks as a first-generation college student at Lehigh University.

"The cost of my chemistry textbook caused my mother to bounce a check at the bookstore, which is not an ideal way to start your college career," Marshall said. "I'm really grateful that so many faculty are getting involved in helping with this important effort."

Assoc. Prof. of Economics Tommaso Tempesti said he started using OERs so students would be able to keep their books after the course was over instead of selling them back to the bookstore.

"I am slow. I like to digest the knowledge," he said. "Sometimes there's this fast-food version of knowledge where you take a course and, boom, you're done. I think it's important that we can go back in the next course, or even graduate school, and read the book."

Marshall and Tempesti were among nine faculty members to be named "OER Champions" for receiving the most student nominations. The others were: Deborah Casey, Leslie Farris, Ramraj Gautam, Kenneth Levasseur, Keith Mitchell, Brent Shell and Margaret Shields.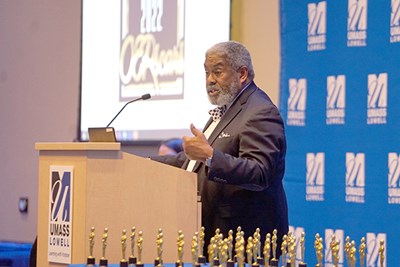 After attending last year's inaugural awards on Zoom, Robert Awkward, OER coordinator for the Massachusetts Department of Higher Education, said he was so impressed by the idea that he created a statewide version this spring.

"The fact that students are recognizing faculty tells you how important it is to them," said Awkward, who also praised the leadership of Assoc. Director of Academic Technology Donna Mellen, UML's representative on the statewide OER Advisory Council.

The Office of Academic and Student Affairs helped put on the OERscars ceremony and was represented by Provost Joseph Hartman and Vice Provost for Academic Affairs Julie Nash.

Noting that textbook costs have gone up 88% since 2006, SGA President Neyder Fernandez said the student organization is committed to working with administrators and faculty to make OERs more common.

"This semester, I have the great privilege of not having to pay for any textbooks," said Fernandez, a junior political science major from Lowell. "Unfortunately, that is not the case for everyone."

As a freshman, Shakira Fedna said she felt anxiety about paying for her textbooks — until she received a scholarship from the River Hawk Scholars Academy to help defray the cost. Now, thanks to OERs, the junior biology major said she spends less than $100 a semester on textbooks.

"I'm beyond thankful for all the professors that made the effort to look for open resources, especially in fields like STEM, which I know can get very costly," said Fedna, who is from Everett, Massachusetts.
 
The other OERscar recipients were: Reza Ahmadzadeh, Daniel Arroyo-Rodriguez, Patrick Connell, Valmor de Almeida, Arlee Dulak, Angelica Duran-Martinez, Lisa Edwards, Elissa Magnant, Katherine Flowers, Jennifer Gonzalez-Zugasti, Bhavna Gupta, Maheen Haider, Karen Hammerstone, Ramanpreet Kaur, Maria Matz, Alison McConwell, Tracy Michaels, Giulia Po DeLisle, Jane Sancinito, Aaron Shepherd, Kim Shih, Katherine Shrieves, Craig Thomas, Michael Vayda, Fabiana Viglione, Erica Yankowskas and Suzanne Young.