Initiative promotes collaborative research, learning opportunities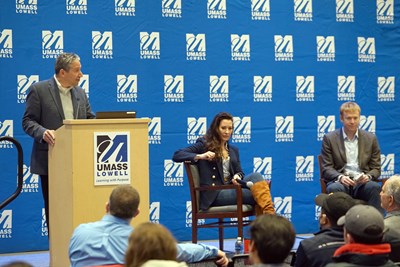 Five diverse colleges make up UMass Lowell, and a common interest in sports is bringing them together.
The Sports Collaborative for Open Research and Education (SCORE) is a campus cluster initiative that uses the unique power of athletics to connect faculty, staff, students, companies and organizations through interdisciplinary research and collaboration. 
James Sherwood, dean of the Francis College of Engineering, spearheaded the creation of SCORE after realizing that the Francis College of Engineering, the Manning School of Business, the Zuckerberg College of Health Sciences, the Kennedy College of Sciences and the College of Fine Arts, Humanities and Social Sciences all offered courses and research opportunities linked to sports.
"We have five colleges across the campus and each one has some sports kind of flavor going on in their college, so what I saw here was an opportunity," he says.
Dozens of faculty and staff members across UML have joined the initiative, including Political Science Prof. Jeffrey Gerson, who teaches classes on politics and sports and was instrumental in launching SCORE.
"Sports is just a great lens to analyze society and understand a way of life that involves politics, history, culture and the whole works," he says. "That's why I started studying sports as an academic subject because I realized this is what matters to people. They don't call them fans for nothing. They're fanatic."
SCORE highlights a range of course offerings, from nutrition and wellness to sports journalism, that are available to students. It also hosts events that help connect students with companies and organizations to show them how their area of study can be applied to the world of athletics.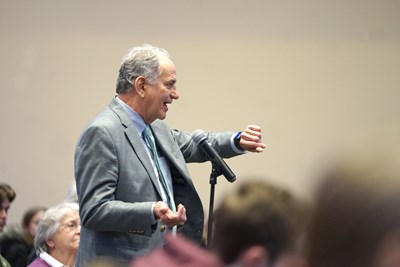 Kristen Holmes, the vice president of performance science at WHOOP, a Boston-based wearable fitness tracking firm, recently spoke to a room full of UML students and faculty as well as a class from Haverhill High School about how the company uses physiological and psychological data to monitor athletes' fitness. 
"I feel in my soul that physiological data without some elements of psychological measures are missing half of the puzzle, and vice versa," she says. "I have this really deep respect and background in psychology, and I feel like that field has really been missing the physiological components, especially sleep. Sleep is going to move you around on scales like no other, so to not understand someone's sleep, you're just missing a huge piece of the puzzle."
Holmes' presentation, which she gave alongside SportTechie writer Joe Lemire, piqued the interest of Stephanie Erickson, a freshman exercise science major from Shrewsbury, Massachusetts.
"In class, we go over so much of the physiology, and this shows how we can apply what we learn," she says.
Bringing companies like WHOOP to UMass Lowell draws attention to the different internship, co-op and job opportunities available to students seeking a career in the sports field, says Gerson. It can also open the door for collaborations with faculty on research projects.
"With WHOOP, there are some faculty who do sleep studies now, but they're not using the technology, so by bringing the two together, there are possibilities for research opportunities," he says.
UMass Lowell houses equipment and technology that support sports research, including the Baseball Research Center founded in 1999 by Sherwood.
"Growing up, I was never a great baseball player and never imagined myself to be one, but the cool thing is I get to look at it from the science and engineering side and I get to develop the technology that they're using in baseball," he says.
Patrick Drane '00, '03 is the assistant director and technical program manager of the Baseball Research Center and has been working there since he was an undergraduate in mechanical engineering. He is now chairing SCORE's steering committee and says more sports-related sports-related events are in the works.
"The events are highlighting what SCORE is about - bringing all these different elements that are across the campus thematically into some programming," he says. "Students will start to make more connections between some of the academic programming and some of the research activities on campus, as well as the sporting events."
SCORE is hosting Ball, Bat and Stick Week during the last week of April in celebration of spring sports, with events ranging from tours of the Baseball Research Center to an ice cream social during the softball doubleheader versus the University of Maine at River View Field on South Campus.