Authority oversees financing, construction and renovation of UMass facilities funded by non-tax dollars; Burns also named vice chair of the UMass Board of Trustees
BOSTON – UMass Lowell alumna and small business owner Mary Burns has been elected chair of the 11-member UMass Building Authority (UMBA), which oversees the multibillion dollar facility construction and renovation activities across the five campuses of the University of Massachusetts.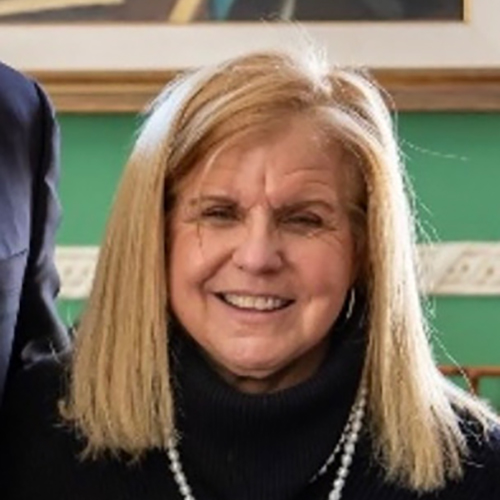 "The 72,000-plus UMass students need and deserve world class facilities that will prepare them for success in the global economy," Burns said. "In this role, I look forward to the Building Authority playing a pivotal role in achieving that mission."
Burns, a UMass trustee, has also been named vice chair of the 22-member University of Massachusetts Board of Trustees.
A fourth generation Lowell native and one of six siblings to graduate from UMass Lowell, Burns is the first woman to lead the UMBA board, which builds and repairs academic buildings, laboratories, athletic facilities, heating plants, dormitories, campus dining commons, parking garages, and other facilities.
"UMass students have no greater advocate than Mary Burns," UMass President Marty Meehan said. "Her service to UMass is driven by her commitment to student success, and I have no doubt that mission will be reflected in her leadership as chair of the UMass Building Authority and as vice chair of the UMass Board of Trustees."
"As a graduate of UMass Lowell, a UMass trustee, and a lifelong resident of our city, Mary Burns has a deep understanding of the impact that UMass has on its host communities and the Commonwealth," said Lowell City Manager Tom Golden. "Her perspective, grounded in real-life experience, will be incredibly valuable as she takes on these new leadership roles."
"I have witnessed first-hand Mary Burns' dedication to the UMass mission," said Jerry Colella (UMass Lowell '78), chairman of MKS Instruments, who co-chaired the search with Burns that resulted in Julie Chen being appointed UMass Lowell Chancellor. "The skill, energy, and knowledge she will bring to her role as chair of the UMass Building Authority and vice chair of the Board of Trustees will benefit UMass students on all five campuses for generations to come."
Burns, who owns and operates Splash Media, an out of home advertising company, succeeds Victor Woolridge as chair. Woolridge recently completed his term on the UMass Board of Trustees.
Established by the Massachusetts Legislature in 1960, UMBA borrows funds by issuing tax-exempt bonds, and hires architects, engineers and construction firms. After the facilities are completed, they are used and maintained by UMass while UMBA maintains ownership of the buildings.
By statute, the Building Authority has eleven members, appointed by the Governor, who oversee UMBA activities. Five of these members are also trustees of the University of Massachusetts. Two of the six non-trustee members must be graduates of the university.
About the University of Massachusetts
The University of Massachusetts is a world-class public research university system committed to advancing knowledge and transforming lives. UMass is renowned for the quality of its academic programs, the scope and impact of its research, and the strength of its public service mission. With four comprehensive campuses, a world-class medical school and a mission-driven law school, UMass educates more than 72,000 students, has more than half a million alumni, conducts $752 million in annual research, and is responsible for $7.5 billion in economic impact every year. The university system comprises UMass Amherst, UMass Boston, UMass Dartmouth, UMass Lowell, UMass Chan Medical School in Worcester and the UMass School of Law in Dartmouth and is one of the largest employers in the Commonwealth of Massachusetts.