The 2021 UMass Chan Cares charitable giving campaign has begun. The opportunity for faculty, students and employees to donate to a wide range of causes they care about runs through Tuesday, Nov. 23.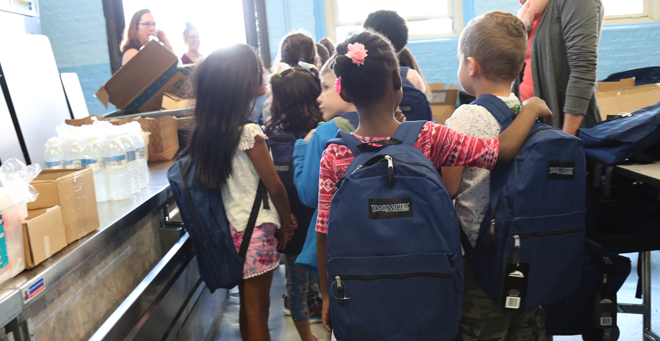 Participants can direct their donations to numerous options, and donations can be split among multiple choices. The campaign provides these giving options:
North Quadrant Support Services
Since being established in 2017, the NQSS initiative has supported educators and students in the North Quadrant of the Worcester Public School system, home to some of the city's most economically disadvantaged residents. Recent support has included supply-filled backpacks for students, hot spots for remote learning and classroom grants.
UMass Chan Medical School Foundation
Donations can be directed via the foundation to the following funds:
UMass Chan Medical School Research – UMass Chan Medical School is home to some of the world's preeminent biomedical sciences researchers. Donations support their efforts to identify and develop solutions to devastating ailments, from heart disease to cancer to ALS.
UMass Chan Medical School Student Financial Aid – This fund enables UMass Chan Medical School to attract talented students regardless of their ability to pay, providing financially disadvantaged students opportunities to pursue a medical education.
UMass Chan Medical School Veterans Fund for Health Research – New this year as the region celebrates the November opening of a community-based outpatient clinic for veterans on the UMass Chan Medical School campus in Worcester, this fund will support improved care for local veterans and provide enhanced learning and research opportunities for students and faculty.
UMass Chan Medical School Diversity and Inclusion – In order to promote a culture that celebrates and espouses the values of respect, inclusivity, collegiality and diversity, while acknowledging and effectively addressing bias, contributions will support institution-wide efforts to educate the Medical School community about the importance of diversity and inclusion.
The United Way of Central Massachusetts
Donors can direct contributions to any of more than 1,000 prescreened nonprofit organizations from down the street to around the globe.
"Because we partnered with you, we were able to do so much, from emergency shelters to remote classrooms, to summer step-ups so every child who missed a year of school would be ready to go back, to vaccine equity clinics," said Timothy Garvin, president and chief executive officer of the United Way of Central Massachusetts. "We had a great year last year in taking care of our community, and we did that in partnership with the Medical School and with the funds that you sent to us so that we could serve more than 100,000 people in our community who were in need."
Donations can be made via payroll deduction, credit card or check at the UMass Chan Cares giving site.