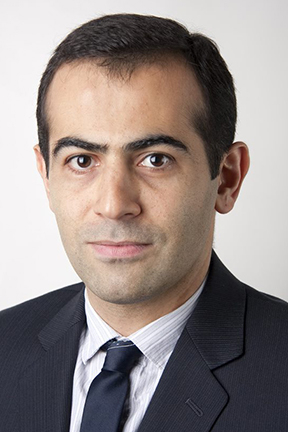 Yahya Modarres-Sadeghi, professor in the Department of Mechanical and Industrial Engineering, has received a Harvard Radcliffe Institute Fellowship for the 2022-23 academic year. 
Modarres-Sadeghi is one of 50 fellows chosen from 14 countries and 30 colleges and universities for the prestigious honor. The fellows represent a diverse range of disciplines, from engineering and computer science to poetry, journalism, social sciences and more.  
While spending the 2022-23 academic year in offices located at the Radcliffe Institute for Advanced Study at Harvard University, the fellows are expected to be highly collaborative, with ample opportunities throughout the year for interaction and collaboration. 
"That was the main motivation for me to apply for this fellowship," Modarres-Sadeghi says. "I'm an engineer who comes from a family of non-engineers. My father is a writer, I've been living with writers and poets and architects and artists, so just going to this fellowship, for me, is like going back home and talking to my father's friends, my wife's colleagues. I've been inspired by those people." 
Modarres-Sadeghi will collaborate with Harvard biologist George Lauder and his students to design and build a robotic fish that can integrate with live fish in their natural habitats, allowing scientists to study fish behavior in unexplored ocean environments with minimal intrusion.  
The goal, he says, is to combine his knowledge of fluid mechanics and propulsion with the biologist's desire to study certain fish behaviors to design a new iteration of a robotic fish that he has been working on for the past several years. 
"The plan is that at the end of the fellowship I will have another improved version of the robot," he says, adding that with the biologist's perspective, "we might come up with some other ideas that I never thought of in terms of understanding fish propulsion behavior." 
"The promise of the long-term project is to have a robot that you can bring to the ocean or to the lab environment and place it next to live fish and they can interact without disturbing the live fish," Modarres-Sadeghi says. 
Last year's class of fellows included Lixin Gao, electrical and computer engineering, whose project was to investigate how to perform data analytics on complex networks in a privacy-preserving manner.