Amara takes top prize at $50,000 idea challenge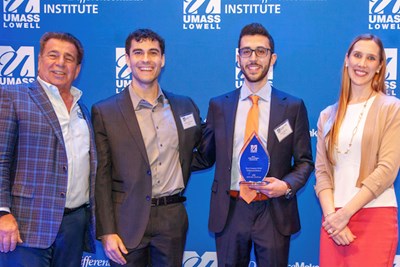 As he presented the top prize of the night — the $6,000 Rist Campus-Wide DifferenceMaker award — to senior biology major Adam Iskandar and teammate Brandon Conceicao for their social media platform Amara, Brian Rist '77 deadpanned, "Now you've got to do something."

The line drew chuckles from the Moloney Hall audience, which was well aware of how much the team, and their nine fellow finalists, had already done to reach the Rist DifferenceMaker Institute's 10th annual $50,000 Idea Challenge.

After months — and in some cases years — of brainstorming, researching, problem-solving and rehearsing, they had emerged from a field of 50 teams, representing more than 30 academic departments across all five colleges at UML, to make it to the big stage.

"Win or lose, the experience you gain from this is invaluable," Iskandar said after he and Conceicao received their award for Amara, which they pitched as an alternative to "toxic" social media platforms like Instagram and TikTok that "eat away at users' mental health."

By using "humane" algorithms that are based on positive responses, and by being transparent about how they collect users' data, the duo called Amara "the future of social media." A prototype is already available in the App Store and on Google Play, and they said their winnings will help cover future development and equipment costs.

"We plan on using the credibility gained from UMass Lowell DifferenceMakers when meeting with investors," said Iskandar, a native of Newton, Massachusetts, who met Conceicao through his work as a customer service rep at invisaWear — a company that also got its start with the DifferenceMaker program.

Amara wasn't the only big winner at the Idea Challenge, as five other teams took home $4,000 prizes.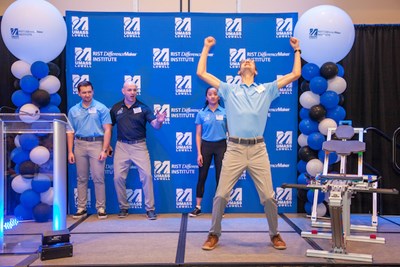 Minds with Purpose, a networking platform created by junior business major Jeurys Santiago and sophomore liberal arts major Sammy Santana that unites local businesses, entrepreneurs and artists, won the Significant Social Impact award.

The Jack M. Wilson First Product to Market Award, sponsored by UMass President Emeritus Jack Wilson, went to junior biology majors Abigail White and Alyssa Kennedy for Pond Hoppers, a board game that fosters education, communication skills and creativity for young children.

The duo originally designed the game for an honors seminar called "Game Gambit." White said that after seeing a nephew struggle through virtual preschool on Zoom, she realized there was "a huge opportunity" to make something out of their class project. So they joined DifferenceMaker.

"As biology majors, we don't know anything about business-related terms or how to market a product. I didn't know what a 'minimum viable product' was," said White, who is from Dracut, Massachusetts. "This whole DifferenceMaker process really taught us a lot."

"We don't get to do a lot of public speaking for biology — it's mostly writing reports. DifferenceMaker teaches you the skill of making a presentation," added Kennedy, a native of Millford, New Hampshire, who said they will be teaming up with a business student this summer to develop marketing strategies for their game.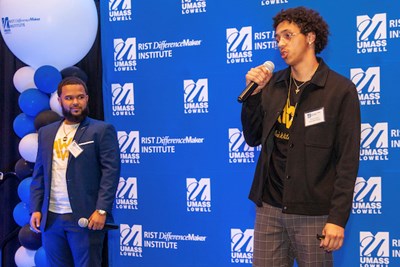 Contribution to a Healthier Lifestyle honors went to Peak Performance, a device that assesses and corrects rotational misalignments between the pelvis and spine. The team of sophomore biomedical engineering majors Mark Elman and Steven Evangelos, junior exercise science major Matthew Martel and freshman biomedical engineering and business double-major Evelyn Duffy won last semester's Francis College of Engineering Prototyping Competition.

Junior biomedical majors Victoria Williams, Ethan Block and Amie Russell took home the Sutherland Innovative Technology Solution, sponsored by finance alum Andrew Sutherland '94, for Tendren, a wireless pulse oximeter, combined with an electrocardiogram and blood pressure monitor, to track patients in hospital waiting rooms.

ThermoEXA, a team composed of Double River Hawk Ariel Pena-Martinez '20, '22 and MIT Ph.D. student Grissel Cervantes-Jaramillo, won the Commitment to a Sustainable Environment Award for a device that uses biometrics recognition to control home thermostats more efficiently.

Pena-Martinez, who works as a data scientist at Facebook parent company Meta, said he entered ThermoEXA in DifferenceMaker to get mentorship and feedback.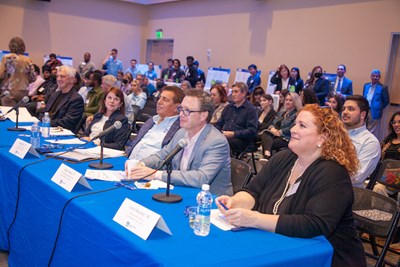 "When you have an idea, you need feedback from experts to know if it's good or not. And what better experts than at my own school?" said Pena-Martinez, who added that he looks forward to learning more at the DifferenceMaker Summer Boot Camp — which is required for all Idea Challenge finalists.

Sophomore business majors Matthew Kinash, Matthew Allen and Jackson Sterrett, who won last semester's DCU Innovation Contest with their app StockToMe, received an Honorable Mention award of $2,000.

Other Honorable Mention prizes went to USuccess (senior business majors Kaitlyn Catron, Kyle Knapp, Mikaela Murphy and Nyna Pendkar and junior business major Anna Kouadio); Vital Sensing Patch (junior biomedical engineering majors Thang Do and Haris Kum and alum Wynn Wiggins '18, '21); and UML Japanese Student Association (junior business major Mina Lam).

MetaLingual, an immersive virtual reality experience that promotes language learning, was voted Fan Favorite and received $1,000. The team includes computer science majors Aiman Baig and Zuhair Shaikh, electrical engineering majors Haris Waqar and Samuel Lugo, language studies major Nihal Chaudhary and business major Isa Ahmed.

Rist and Wilson were joined on the judges panel by Lorna Boucher '86, chief marketing officer at Instinet; Roger Cressey '87, partner at Mountain Wave Ventures; and Maura Walsh '80, former president of Hospital Corporation of America's Gulf Coast Division.

"What you see with these students is a tremendous entrepreneurial commitment, tremendous ideas and a willingness to take a risk. As they get into their professional lives, taking risks is going to be so important," said Cressey, a political science alum who was serving as a judge for the second time. "It gives me hope, and it's just a reflection of how well the university is doing."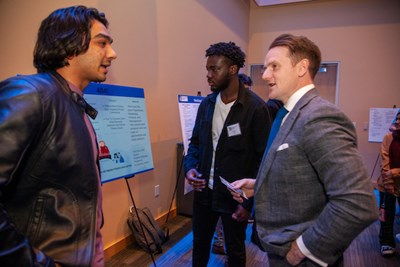 Chancellor Jacquie Moloney was a driving force behind the creation of the DifferenceMaker program, which launched in 2011 as a way to engage UML students in creative problem-solving, innovation and entrepreneurship. She encouraged all participants "to take what you learned from this experience no matter where you go, in whatever job you have."

Rist, the program's namesake and chair of the Rist Family Foundation, praised Holly Lalos, the institute's director, and her team for their work.

"It seems like the competition, the ideas and the creativity get better and better and stronger and stronger every year," he said.

Corporate sponsor Foley & Lardner LLP, where engineering alum Chris McKenna '89 is office managing partner, is providing $15,000 of in-kind legal services to the winning teams.

Iskandar, who said his left knee was shaking so badly during his Amara pitch that "I thought I was going to break the stage," said the DifferenceMaker experience was an "exponential" help with their app.

"This program allowed us to break down the content that we had and essentially let us grow and evolve," he said. "We couldn't have done it without DifferenceMaker's guidance."