Program offers free courses and support to students pursuing STEM degrees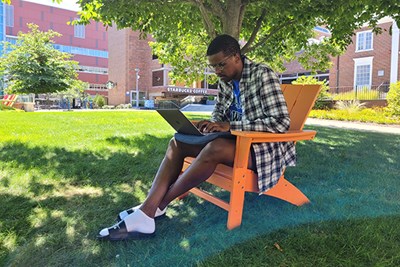 Daniel Dsouza came to the United States from India in pursuit of a bachelor's degree in computer science.
"I've been interested in computers since I was a child," he says. "I used to open up toy computers and see what's inside."
Dsouza spent his first year in the U.S. at Bunker Hill Community College in Boston before transferring to UMass Lowell as an honorscomputer science major. He received support during this transition from the STEM Starter Academy – a Massachusetts Department of Higher Education initiative that assists community college STEM students working toward degrees and certificates.
Through this initiative, Dsouza got to take a free three-credit course at UMass Lowell before the fall semester. He is one of 16 students who took advantage of the opportunity at UML, which he says has prepared him for the rest of the academic year. 
"The program's aim is to help students in STEM fields achieve their bachelor's degree by giving them extra support over the summer while they focus on one class," says Julie Nash, vice provost of academic affairs.
Kristen Rhyner, associate director for academic service and transfer support, met with each student enrolled in the program to find a summer course that would help them get closer to obtaining a bachelor's degree. Dsouza took an honors seminar, which pushes him toward his goal of graduating as a Commonwealth Honors Scholar.
Suha Abdeen of Haverhill, Massachusetts, took Introduction to Public Health for free online as she works toward getting a degree at UML in applied biomedical sciences with a medical laboratory science option. She obtained an associate degree in laboratory science at Northern Essex Community College in Haverhill in 2021 before taking a year off from school. Abdeen says the STEM Starter Academy helped her readjust to being a student.
"I took a gap year between community college and UMass Lowell, and I felt my brain was a little out of practice, so it was nice to start with one class and get back into the swing of things before I jump into four classes in the fall," she says.
Kristen Rhyner, associate director for academic service and transfer support, served as an advisor for Daniel Dsouza and 15 other students enrolled in the STEM Starter Academy.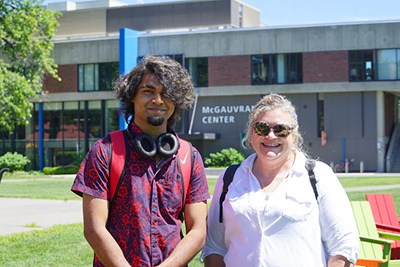 Juel Teixeira Baptista, a native of Cape Verde, spent the summer taking Computing II. He appreciated taking a free course before shouldering a full course load in the fall as a computer science major.
"Once I decided that I wanted to come to UMass Lowell, I did some research and came across the STEM Starter Academy," says Teixeira Baptista, who got an associate degree in computer science transfer from Massasoit Community College in Brockton, Massachusetts. He says the concepts he learned in the course will help him in future classes.
Along with taking a free course, the students got to attend transfer workshops that went over topics including identifying career and life goals, developing strategies to succeed as a STEM major and understanding how co-ops work. 
Rhyner served as an advisor for the students over the summer and helped them navigate UMass Lowell.
"Sometimes, coming here can be a big shock. A lot of people call it transfer shock, so the more contact you have with the students, the more comfortable they will be to ask questions," she says. "We really want the students to succeed. We go the extra mile."
Dsouza says Rhyner has been a tremendous help, particularly in guiding him toward his career goals.
"She's there every time I email her. I always receive a response back really quickly," he says. "I really appreciate that."
The STEM Starter Academy at UML is open to all Massachusetts community college students interested in STEM, regardless of whether they plan on attending UMass Lowell. However, Dsouza, Abdeen and Teixeira Baptista have all committed to being River Hawks and will have a team of advisors from the Centers for Learning, Advising and Student Success helping them along the way. 
"UMass Lowell has rigorous coursework and I really love the campus," says Dsouza. "The professors are also really cool."
"I always heard UMass Lowell had a good science program, and the campus is pretty close to where I live, so I just felt it was a good option for me," Abdeen adds. "And because it's a state school, it's also cheaper than some of the other nearby colleges."