UMass Lowell is only America East school on list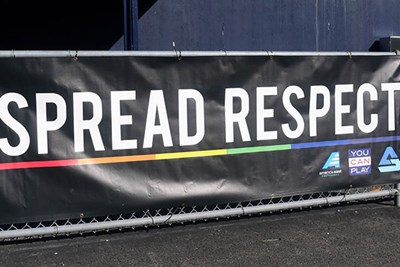 UMass Lowell remains one of only 15 Division I athletic departments to score a perfect 100 on the Athletic Equality Index, according to the NCAA's yearly update for 2022.
Launched in 2017, the AEI measures LGBTQ+ inclusion policies and practices in NCAA DI athletic departments.
"Here at UMass Lowell, we continue to strive to make all our student-athletes and staff feel seen, heard, respected and safe," said Director of Athletics Peter Casey. "I am so proud that we continue to be among the leaders in the country for diversity, equity and inclusion, helping to set a standard in college athletics, but I know that there is always more work that can be done and we must continue to push ourselves in this area every day."
The aims of the AEI are to set a gold standard of LGBTQ+ inclusive policies and practices in collegiate athletics; provide feedback to athletic departments on how their policies and practices compare to others across the nation; and offer resources to departments hoping to update their policies and practices.
"It's an amazing recognition of the great work athletics has been striving towards, and as always, a reminder that there's still important and urgent work to do," commented Leslie Wong, UMass Lowell Dean of Equity and Inclusion and co-chair of the River Hawks' Diversity, Equity and Inclusion Committee. 
"DEI, as a process and a journey, draws on a commitment of intentionality and serves as a continuous call to action. Kudos goes to the athletics team, leadership and student-athletes, who commit every day to engaging this work and making a difference."
The NCAA's AEI Research Fellows perform a comprehensive audit of the student-athlete handbook, policy manuals and official athletics websites of every NCAA DI institution annually to identify policies and practices of LGBTQ+ inclusion. Every athletic department has the capacity to earn full points on the AEI by enacting and making each policy, resource and training publicly available to staff, fans and student-athletes.
UMass Lowell Athletics took a number of steps, including adding resources to goriverhawks.com, such as an Inclusive Fan Code of Conduct and a Bias Reporting link, and encouraging more staff members and student-athletes to participate in Ally Space training.
"In the last two years, Multicultural Affairs and Athletics have had an opportunity to more closely work together on a process to support and proactively deepen DEI in athletics," added Wong. 
"The shared understanding was that organizational and culture change requires a holistic framework with attention to individual, group and systems-level work. With that premise, the team held many conversations identifying areas for progress and for greatest impact. A significant focus was infusing a shared DEI vision alongside values and priorities that would inform daily actions. The Athletic Equality Index was just one measurement among a few that was reviewed, which also informed and supported the efforts in developing longer-term strategies and recommendations for continuous improvement."
UMass Lowell joins 14 other DI institutions to make up the elite group that has scored perfect on the AEI. UMass Lowell is the only America East school on the list that includes Boston University, Bowling Green State, Columbia, Dartmouth, George Mason, Lafayette, Towson, Arizona, Cal Berkeley, UC Davis, Illinois at Urbana-Champaign, Massachusetts, Penn and UT Austin. 
"What makes our campus community special are the meaningful relationships that we have across departments and divisions," concluded Wong. "I'm appreciative that we have so many committed individuals who care so deeply about these issues and who work tirelessly to champion, advocate and make changes. In so much of this work, it's less about the end goal sometimes, but rather what we learn while we're in the process of changing together. The journey matters."