Thought leaders gather for national conference to discuss how to shape and reshape one of America's greatest assets – its higher education sector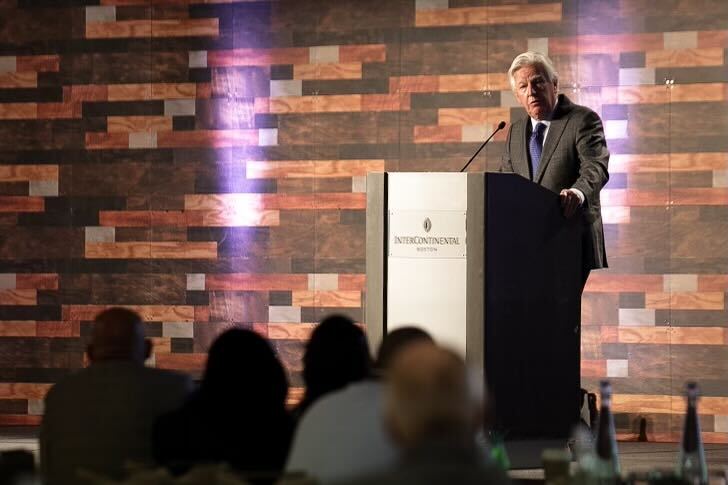 BOSTON – UMass President Marty Meehan delivered a keynote address today at EduVentures Summit 2022, joining 500 senior leaders from 400 colleges and universities across the country to discuss higher education's challenges and opportunities and the topical issues that will shape the sector's future. 
This year's EduVentures Summit, held June 15-17 at the Intercontinental Boston, explored the newest ideas in student enrollment management, online and continuing education, program innovation, student success drivers, and technology innovation's impact in all of these areas.
"Time and time again, throughout history, America and the world have looked to our universities for answers," President Meehan said in his 25-minute keynote presentation, Higher Education and the Quest for a Better Tomorrow, which included a Q&A session on the key issues impacting higher education.
"We are engaged in a permanent effort to improve our institutions – not because innovation, progress and high achievement look good on a performance review or in an annual report – but because higher education is so vitally important to our national future and our destiny," he said.
Brandon Fleming, the Assistant Debate Coach at Harvard University and the Founder/CEO of the Harvard Diversity Project, and Allan Golston, President of the U.S. Program at the Bill & Melinda Gates Foundation, were among the luminaries who gave keynote speeches as part of the three-day conference.
Today's program wrapped up with an on-stage conversation between Pulitzer Prize-winning historians Jon Meacham and Doris Kearns Goodwin, moderated by Richard Garrett, Eduventures Chief Research Officer, Encoura.
###