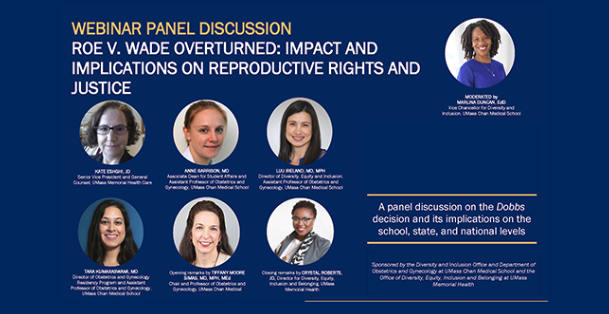 The medical community needs to use its expertise, voice and privilege to protect comprehensive patient care in the aftermath of the U.S. Supreme Court's decision in Dobbs v. Jackson Women's Health Organization, which overturned nearly 50 years of constitutionally protected abortion, a panel of UMass Chan Medical School OB-GYN faculty and a lawyer representing UMass Memorial Health said in a webinar panel discussion on Wednesday, July 27.
The court's decision has "frightening" ramifications for a range of patient care issues from contraception to cancer treatment, "exponentially exacerbates" health inequities and has added complexities to graduate medical education decisions for trainees, the panel said.
The panel, which was moderated by Marlina Duncan, EdD, vice chancellor for diversity and inclusion at UMass Chan, featured Anne Garrison, MD, assistant professor of obstetrics & gynecology and associate dean for student affairs; Luu Ireland, MD, MPH, assistant professor of obstetrics & gynecology; Tara Kumaraswami, MD, assistant professor of obstetrics & gynecology and director of the obstetrics & gynecology residency program; and Kate Eshghi, JD, senior vice president and general counsel at UMass Memorial Health. Tiffany Moore Simas, MD, MPH, MEd, the Donna M. and Robert J. Manning Chair in Obstetrics and Gynecology and chair and professor of obstetrics & gynecology offered opening remarks and Crystal Roberts-Gilbert, JD, director for diversity, equity, inclusion and belonging at UMass Memorial Health Care made closing remarks.
"I am proud to be chair of OB-GYN here where we remain committed to providing high quality, evidence-based, safe reproductive health care for all of our patients across all of their reproductive health needs," said Dr. Moore Simas. "And we remain committed to educating the current and next generations of clinicians to provide comprehensive health care, including the full spectrum of reproductive health care. And this, of course, includes abortion."
Physicians on the panel expressed gratitude that they were practicing and training clinicians in Massachusetts, which protects abortion rights. But they were devastated by what they are seeing in approximately half the states, where abortion bans and restrictions, and in some cases criminalizing the procedure, have gone or are going into place.
Providing legal context, Eshghi said, "The ramifications of Dobbs are far reaching, first and foremost for access to reproductive care and the rights and options of pregnant people. There has been an immediate exponential increase in barriers to care. The obstacles that already existed for low-income people, minors, those living in areas with limited access have increased . . . The Dobbs case creates legal uncertainty and risk for providers, patients and people who may become pregnant across the country."
Several panelists said that although abortion is legal here, Massachusetts residents seeking care will soon be facing longer wait times as clinics absorb volumes of patients turned away in other states. And more patients will be seeking abortions later in their pregnancy because of the time needed to travel, which will further strain the provider network.
Dr. Ireland said she has already seen two patients from Texas, who had the resources and privilege to travel to Massachusetts for their procedures.
"What I'm hearing from some folks (in states with bans) is that turning patients away is really, really hard," said Ireland. "It's really hard when you have the skills and knowledge to care for the person in front of you and you're not legally able to do so."
Dr. Kumaraswami said she has seen increasing numbers of patients ask for sterilization or seek to replace their IUD earlier than usual because of concerns about potential future access in case of an unexpected pregnancy.
Health risks in states with abortion bans extend beyond reproductive care to potentially preventing people who might be pregnant from receiving some life-saving cancer treatments or immediate care for ectopic pregnancy, further worsening maternal morbidity and mortality rates, panelists said.
Dobbs has also raised concern that medical students and trainees will no longer be assured of access to learning how to provide essential health services, not only to people seeking abortions but also to manage miscarriage. The UMass Chan chapter of Medical Students for Choice is dedicated to ensuring access for all people to comprehensive reproductive health care and has been active at UMass Chan in advocating for the continuation of the full spectrum of reproductive health care in the curriculum, said Kumaraswami, who serves as the group's faculty advisor.
Students at UMass Chan practice first trimester manual vacuum respirations using a papaya as a uterus model. They learn about medication abortion and in third- and fourth-year rotations have the opportunity to be in clinic, where they see patients preoperatively for miscarriage or abortion and then go to the operating room with the physician.
Medical students contemplating careers in OB-GYN face new challenges. "It certainly has impacted the way our learners are thinking about where they could do their training and it has impacted our programs," said Dr. Garrison.
Widespread abortion bans will have serious consequences for marginalized communities, Ireland said. "We know that folks who wanted an abortion that did not get an abortion are much less likely to be employed, they're much less likely to leave violent relationships, they're much more likely to experience depression, they're more likely to rely on public assistance. These are lifelong impacts that not only affect them, but trickle down through generations."
Ireland further warned that even with self-managed abortion using mifepristone and misoprostol, which can largely be done safely, there will be some people who need emergency care. In some states now, patients who seek emergency care could make themselves vulnerable to criminal prosecution. "We know that Black and brown people are much more likely to be prosecuted than white people, and this is going to be the same when it comes to self-managed abortion," she said.
Panelists offered the following actions to protect access to all health care: Vote for candidates who support abortion rights, even at the local level; consider running for office; get involved in the American College of Obstetricians and Gynecologists and state medical societies; and take a stand when something is not right.
"We think a lot about professionalism in medical school," said Ireland. "Professionalism, remember, is doing what is right to honor your medical responsibilities to your colleagues and your patients. It is not following the rules because sometimes the rules are not fair, and they perpetuate inequality and they perpetuate harm. [You] can use your voice and your privilege to try and shape and redirect the system."