Food access, education opportunities abound at UML's latest urban agriculture site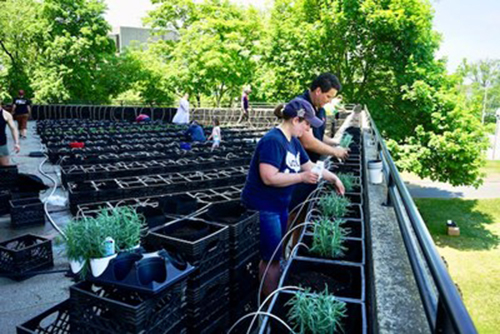 In the countless hours that senior peace and conflict studies major Austin Thoren has spent studying in the O'Leary Learning Commons mezzanine, he never gave much thought to the empty cement terrace just outside the room's floor-to-ceiling windows.

"There was never anything going on out there, so I didn't really pay attention to it," he says.

When students return to campus this fall, they'll discover quite a bit going on outside the windows: a new rooftop garden of flowers, herbs and vegetables brimming from 500 neatly arranged containers.

It's the latest addition to UML's Urban Agriculture Program, a collaboration between the university's Office of Sustainability and the Lowell-based urban farming nonprofit Mill City Grows. 

"This is a nice addition to South Campus. It's great to see," says Director of Sustainability Ruairi O'Mahony, who was among a dozen staff members and volunteers from UML and Mill City Grows that set up and planted the garden on a sweltering Saturday in early June.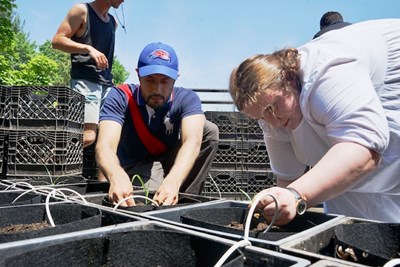 Mill City Grows, which already manages the Rist Urban Agriculture Greenhouse on East Campus and the Green Roof garden at University Crossing, will oversee the new garden at O'Leary. Herbs and vegetables will be made available to the community through its popular Mobile Market.

Student employees from the Office of Sustainability — like Thoren — will help harvest and maintain the site, which O'Mahony says could also be used as a hands-on learning space for students in fields such as nutritional science or education.

"It helps increase food access for the community, greens the campus and serves as a living lab for students, so it's just a win for everybody," he says.

Funded two years ago by a $45,000 grant from the Massachusetts Department of Agricultural Resources, the project was delayed a year because of the COVID-19 pandemic. The funds were used for an engineering study to ensure the 2,300-square-foot rooftop could support the weight of the garden, and to purchase the intricate drip irrigation system and other supplies.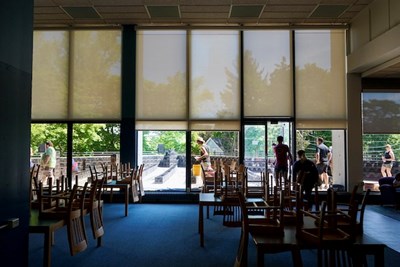 Mill City Grows Executive Director Jessica Wilson says the expanding partnership with UML bolsters the organization's food justice mission.

"We're able to do so much more for the community because of our partnership with UMass Lowell," she says. "We're able to grow more food in the greenhouse, and because so many students have done service-learning projects or volunteered with us, it really helps raise awareness of the work we're doing."

Besides herbs such as basil, cilantro, thyme, rosemary and lavender, the new rooftop garden includes flowers such as echinacea, nasturtium and a "feed the bees" wildflower mix. Because the rooftop should be less susceptible to pests and weeds, Mill City Grows Asst. Farm Manager Maddie Grant says they will also use the space to experiment with crops such as corn, flax, safflower, sorghum and adzuki beans.

Some of the crops won't be harvested for food, but rather for their seeds. Ali Jacobs, director of programs for Mill City Grows, says that "seed saving" is an important way to grow rare or endangered crops — especially those that are popular with Lowell's immigrant communities.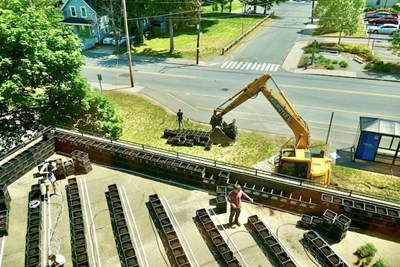 "People will talk about food from their home that might not be widely available here, and maybe the seeds are expensive," she says, citing the Middle Eastern herb za'atar as an example. "If we propagate our own populations of them, we can help indigenous and immigrant folks propagate their own seeds of their own plants. You help people reconnect with food."
O'Mahony says produce from the garden could be used in the university's Farm Share Program once it's back up and running, as well as at the nearby South Campus Dining Commons.

One of the students that helped install the garden was Huzaifa Emran, a second-year energy engineering graduate student from Pakistan who joined the Office of Sustainability as a student employee this summer. The garden project lines up with his interest in sustainable energy.

"My concentration is solar, and what we're doing with the Office of Sustainability is basically conservation of the environment," Emran said as he fitted plastic tubing for the irrigation system. "If you can contribute in the slightest degree, why not?"

Agllaia Nikolla, a rising junior biomedical engineering major from Albania, volunteered to help plant the garden.

"I'm looking forward to seeing what this looks like when it's done," she said while preparing irrigation tubes with Emran. "Students are having a very hard time mentally right now, so I think this will be a good place to come and relax."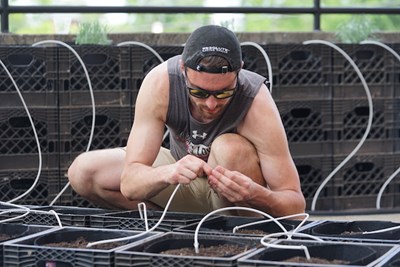 Thoren, a native of Methuen, Massachusetts, began working for the Office of Sustainability as a first-year student after volunteering with the Move Out Program. 

"I love this job. I would do it another couple of years if I could," he said after shoveling compost from Casella Organics into 500 milk crates, which were hoisted to the rooftop a dozen at a time by an excavator.

Thoren, who plans to pursue an accelerated master's degree in peace and conflict studies after completing his bachelor's degree this summer, will have a much better view the next time he's studying in the mezzanine at O'Leary.

"I've been telling people about the garden for weeks. They're like, 'Really? On top of O'Leary?'" he says. "It looks awesome."