Sixteen motivated teens prepare their next steps toward careers in science and medicine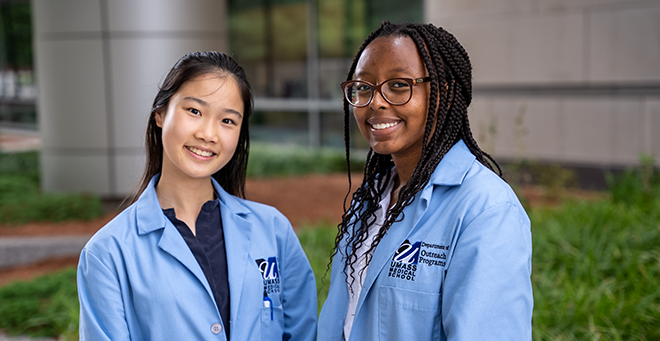 Shalom Njau, the daughter of immigrants from Kenya, is a rising junior in the biotechnology track at Worcester Technical High School who wants to be a doctor and scientist. Immigrated from China five years ago, Brookline High School student Yutian "Tina" Li, also a rising junior, has her sights set on dentistry and oral health research.
Njau and Li are grateful and proud to be among the 16 members of the High School Health Careers Program Class of 2022 at UMass Chan Medical School, and confident that their experiences in the summer outreach program will help them achieve their goals.
"The program has provided me an opportunity to gain a deeper understanding of what it's like to work in one of these fields," said Njau. "I expanded my knowledge of different careers and gained new skills to succeed in a research or health care field."
The High School Health Careers Program is a month-long, tuition-free educational enrichment immersion for high-achieving Massachusetts high school students who are from populations underrepresented in health care or economically or educationally disadvantaged. With its goal to increase diversity in health care and biomedical sciences, the program exposes highly qualified high school students to these careers at an early stage in their academic development and encourages them to set high academic goals and employ concrete strategies to achieve them.
"Something that I really love about this program is the representation," said Li. "All for our teachers are people of color and women, which is so rare to see. It's inspiring to know that there are people like us in the health care field, and we can be like them too."
The program brings together likeminded students to interact with health care faculty and providers in a professional setting. Students are challenged with rigorous academics including intensive SAT preparation, and they learn about contemporary issues in health care. Gaining full exposure to an integrated academic health sciences center, students also gain firsthand experience working as interns in clinics at UMass Memorial Medical Center, UMass Chan's clinical partner.
"I really enjoyed the internship because while I've always had the dream to become a doctor, I have never been in a hospital setting," said Li, who shadowed caregivers and interacted directly with patients in the cardiology clinic. "This made me see what health care actually is, instead of the glorified version that we often see in media."
One day during her internship on a medical/surgical floor in the hospital, Njau witnessed a patient in a Code Blue. "I noticed how so many professionals came in, people from all different departments going into that one room," she recalled. "I didn't realize how many people can be needed to take care of one person. It was eye opening."
Njau and Li said a highlight was getting to know and work with equally ambitious students with shared future goals and lived experience who want to be advocates for the underserved patients they intend to care for.
"A big part of this program is who you're with. Our classmates are great people. They're always great to be around, very dependable during projects, everyone is there to support you," said Njau. "We've created a community and we're sad to see it go."
Fortunately, they intend to stay connected and already have plans to meet again soon.
"We celebrate your accomplishments for successfully completing our program," said Robert Layne, MEd, assistant dean of outreach programs and director of the High School Health Careers Program. "You learned more about yourselves and the commitment and dedication that will be necessary to pursue careers in biomedical research, biotechnology and the health care professions. This is only the beginning for you. You are now members of the UMass Chan family."
"I hope over the last four weeks that you have gained greater clarity about what it takes to work in the health professions and biomedical research, and that you can think a little more deeply about the ways in which you can make your own contributions," said Brian Lewis, PhD, the George F. Booth Chair in the Basic Sciences, professor of molecular, cell & cancer biology, associate dean for diversity and pre-matriculation programs for the Morningside Graduate School of Biomedical Sciences, and assistant vice provost for outreach and recruitment for UMass Chan. "Your health disparities presentations make it clear that we need a lot of change. I hope that each of you as you move forward will recognize your ability to institute that change, and that you will do so."
Layne and Lewis delivered their closing comments at a graduation ceremony on July 29. Students received certificates of completion and awards were given for the three best health disparities research presentations. The program's longtime biology, mathematics, English and communications, and information technology instructors and Layne presented special recognition awards for academic excellence.
High School Health Careers Program Class of 2022
Ian Agyekum, St. John's High School '24
Dinah Agyemang, Worcester Technical High School '24
Brianna Attafah, Abby Kelley Foster Charter Public School '24
Sarang Bajwa, Acton Boxborough Regional High School '24
Giovana Bonatelli, Shrewsbury High School '23
Ajskjon Callo, Doherty Memorial High School '24
Rukmina Dhakal, Worcester Technical High School '24
Eftalia Economou, Bancroft School '24
Chloe Kalp, Worcester Academy '23
Ivan Kim, Lowell High School '23
Yutian Li, Brookline High School '24
Janneth Mora, University Park Campus '23
Shalom Njau, Worcester Technical High School '24
Aaliya Sinkinah, Abby Kelley Foster Charter Public School '24
Dayana Sis Garcia, Lynn Vocational Tech Institution '23
Hether Wambui, Claremont Academy '24