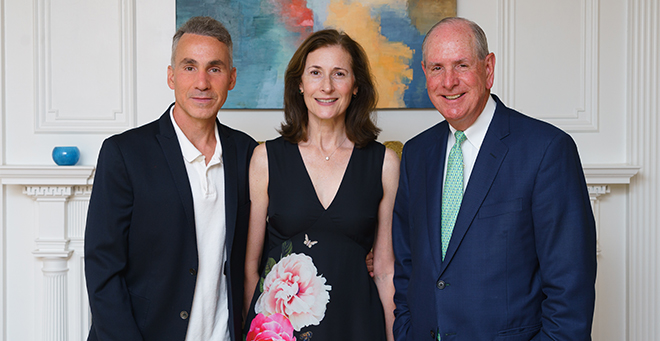 The Dan and Diane Riccio Fund for Neuroscience will support four seed grants this year at UMass Chan Medical School. The goal of the fund is to catalyze interdisciplinary collaborations, leading to innovative discoveries that deepen the understanding of brain function and the processes that can go awry in neurological diseases.
UMass alumni Dan and Diane M. Casey Riccio, PhD, are the Medical School's most generous alumni supporters. In February, the couple made its largest commitment to date, pledging $15 million to UMass Chan; $10 million to support the new Riccio ALS Accelerator Initiative and $5 million to endow the Dan and Diane Riccio Fund for Neuroscience, which was established in 2017 with a $1 million gift from the Riccios. In addition to the fund for neuroscience, the Riccios have also generously supported ALS research at UMass Chan, giving $1 million to the UMass ALS Cellucci Fund and a separate $1 million gift to support other ALS research at the Medical School.
"We are extremely grateful for the generous support of neuroscience research by the Riccio family," said Vivian Budnik, PhD, the Worcester Foundation for Biomedical Research Chair I and chair and professor of neurobiology. "This fund has already been pivotal in fostering interdisciplinary collaborations among NeuroNexus Institute laboratories, which has served to expand our understanding of complex neuroscience problems, and ultimately reveal the mechanisms underlying disease conditions in the brain. The seed grants sponsored by the Riccio Fund are already leading to larger research projects to be submitted for federal support."
Of the four seed grants selected for support by the Dan and Diane Riccio Fund for Neuroscience, one project is a renewal from last year, while the others are new. The Department of Neurobiology administers the fund.
The 2022 recipients and their projects are:
Mark J. Alkema, PhD, professor of neurobiology, Alexandra B. Byrne, PhD, assistant professor of neurobiology, Doyle V. Ward, PhD, associate professor of microbiology & physiological systems, and Beth A. McCormick, PhD, the Worcester Foundation for Biomedical Research Chair II, professor and vice-chair of microbiology & physiological systems and director of the Program in Microbiome Dynamics.
How do human microbiota determine neuronal health? (renewal)
Yingleong (Rigel) Chan, PhD, assistant professor of neurology and Christopher C. Hemond, MD, assistant professor of neurology.
High-throughput antibody profiling of cerebrospinal fluid from multiple sclerosis patients
Allison Keeler-Klunk, PhD, assistant professor of pediatrics and John Harris, MD, PhD, chair and professor of dermatology.
Targeting sensory neurons for the treatment of chronic itch by AAV gene therapy
Yang Xiang, PhD, assistant professor of neurobiology and Y. Tony Ip, PhD, professor of molecular medicine.
Mechanisms and functions of gut-neural sensing