Awards are presented to highly promising, early career scientists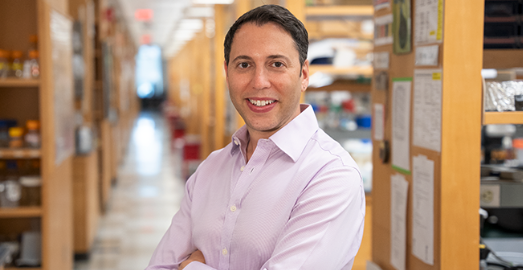 Eviatar Yemini, PhD, assistant professor of neurobiology, is one of 13 investigators nationally to receive a 2022 Klingenstein-Simons Fellowship Award in Neuroscience.
Through a partnership with the Simons Foundation, the Esther A. and Joseph Klingenstein Fund supports early career investigators engaged in basic or clinical research that may lead to a better understanding of neurological and psychiatric disorders. The three-year awards are for $225,000.
"I've always admired the exciting research of Klingenstein-Simons fellows and I am excited to join the group and learn from their insights. This award will fund my lab's work on developmental changes in neural dynamics that drive new behaviors," Dr. Yemini said.
Yemini joined UMass Chan Medical School in January following postdoctoral training with Oliver Hobert, PhD, in the Biological Sciences Department at Columbia University. There, Yemini used genetics, molecular and cell biology, and whole-brain imaging to understand nervous system development and communication.
His lab uses the worm C. elegans to understand how a nervous system grows to meet the behavioral needs of specific stages of life. One of the tools the lab is using is "NeuroPAL," a method Yemini developed for in vivo, cell-type labeling using color barcodes. NeuroPAL animal models represent the first organisms that can be studied for whole nervous system activity and each individual neuron's cell-type identity simultaneously.
Yemini credited Vivian Budnik, PhD, the Worcester Foundation for Biomedical Research Chair I, and chair and professor of neurobiology, and colleagues for providing mentorship and support.
"We have an exceptional and unparalleled support network for junior faculty in the neurosciences at UMass Chan," he said.
The Esther A. and Joseph Klingenstein Fund established the Klingenstein Fellowship Awards in 1981 to better understand epilepsy and improve the lives of those suffering from it. The scope of the awards has since broadened to include cellular and molecular neuroscience, neural systems, and translational research. The fund forged a partnership with the Simons Foundation in 2013.