Gloria DiFulvio, senior lecturer in health promotion and policy and undergraduate program director for the Public Health Sciences (PHS) program at the UMass Amherst School of Public Health and Health Sciences, has been selected by the Association of Schools and Programs of Public Health (ASPPH) as the winner of the 2021 Riegelman Award for Excellence in Undergraduate Public Health Education.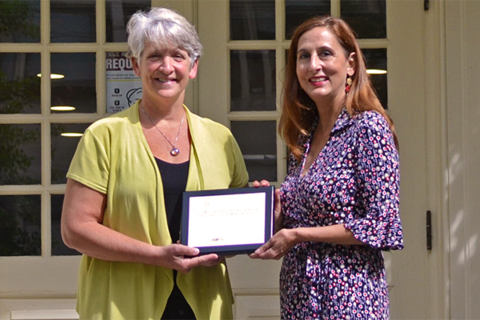 This highly competitive national award recognizes faculty who have made exemplary efforts to start or sustain an undergraduate program, collaborated with community partners and other disciplines, and garnered respect and enthusiasm from students. Named for Richard and Linda Riegelman, the award was established to encourage and recognize excellence in teaching public health to undergraduate students.
"It was an honor just to be nominated by our Dean Anna Maria Siega-Riz. When I was notified that I won the award I was thrilled," says DiFulvio, who will be recognized virtually during the ASPPH Undergraduate Conference for Public Health Education on September 30. "I love everything about teaching, but being able to teach and lead our undergraduate program is a gift. Our students are so inspiring. I love to help students fall in love with the field of public health which is so broad that they can find their passion whether they are interested in policy, advocacy, research, data management, or something else entirely. I love seeing their commitment to creating a healthier world. And most of all, I love to learn along with them as we explore issues of justice and equity."
DiFulvio has directed the PHS program since 2011 and has managed the program's nearly 200% growth in a ten-year period, with nearly 800 students in the major in 2021. During this time, she led the realignment of the curriculum to meet the CEPH accreditation standards including a redesign of the introduction to public health course and capstone experience for PHS majors. With an eye toward creating inclusive high-impact educational opportunities, she established two semester-long faculty-led PHS Study Abroad Programs designed to increase participation by minoritized and first-generation students. The first, in Cuba, launched in Spring 2019 and the second will take place in Croatia in Fall 2022.
"Dr. DiFulvio brings the real-world experiences of working with communities into her teaching and demonstrates repeatedly the importance of public health professionals being advocates, conveners, and leaders in working with key stakeholders to solve complex problems," says Anna Maria Siega-Riz, dean of the UMass Amherst School of Public Health and Health Sciences. "Dr. DiFulvio has been nimble and adaptive with her teaching over the years in order to be on the cutting edge of public health and needs of the students we serve. She is very deserving of this award and we are so proud and honored to have her as a faculty member in our school."
In addition to her work leading the PHS program, DiFulvio serves on the Dean's Anti-Racism Task Force charged with addressing systemic racism in the classroom, in admissions processes, and in faculty and staff hiring within SPHHS. She has also served as a Teaching for Inclusion, Diversity, and Equity (TIDE) Ambassador and is currently leading a team of SPHHS faculty on a Mutual Mentoring Grant-funded project to deepen anti-racist teaching practices across all six SPHHS departments.