J. Nwando Olayiwola, chief health equity officer and senior vice president at Humana, delivers keynote
This year's annual Steven Putterman Lecture, organized by UMass Chan Medical School's Department of Family Medicine & Community Health, "Moving Towards Health Equity: Why Anti-racism Must Be a Core Value in Medicine," was presented on Sept. 21 by J. Nwando Olayiwola, MD, MPH.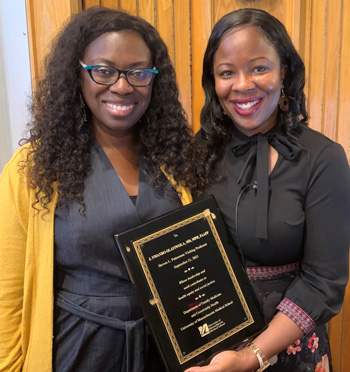 Dr. Olayiwola, who serves as chief health equity officer and senior vice president for Humana, Inc., said racism is a public health crisis that has been upheld by structural detriments. She shared strategies and tools to combat racism in health care and educational settings.
 "The virus and the video [in reference to the COVID-19 pandemic and the killing of George Floyd] was a moment where people got to see the oppression, abuse and challenges Black and brown people have faced for a long time at the hands of a system that was designed to transition from slavery to another form of abuse and brutality," Olayiwola said.
She noted the history of brutality in medicine through the actions of the "father of modern gynecology," James Marion Sims, who conducted experiments on enslaved Black women without anesthesia, and the Tuskegee experiment in which doctors studied the effects of untreated syphilis in Black men by purposely injecting them with the virus. These acts could be performed, "because of the long-held belief that Black people have a high tolerance for pain."
Olayiwola called on the audience to look at covert factors such as denying white privilege, tokensim, color blindness and bootstrap theory as a few of the many ideas that perpetuate discrimination and gatekeep who gets access to adequate health care in the long run.
The presentation connects with UMass Chan's goals to further diversity and inclusion. UMass Chan is one of the four medical schools in the state working with the Massachusetts Medical Society to address racism in academic medicine and in health care organizations.
"High impact concepts such as health equity help to provide shared language, ideas and goal setting as we work together to build a cohesive community," said Jennifer Bradford, MD, MPH, assistant professor of family medicine & community health, as to why it is an important topic for the Medical School and its clinical partner, UMass Memorial Health. "What we were able to see is that the work in health equity, inclusion, antiracism and social justice requires a commitment to implement lessons learned as we engage in collaborative evaluation and discovery." 
The Steven Putterman Memorial Lecture was created in honor of Steven Putterman, MD, who died in a plane crash in 1999. The memorial honors his commitment to caring for people from underserved populations and teaching students and residents the core competencies required for this work.