Engineering Students Flex Their Ingenuity
Annual Dean's Cup Challenge provides fun, week-long competition across disciplines
There's more than one way to launch T-shirts into a crowd at a sporting event, as six teams of students from the 
Francis College of Engineering
 proved during the annual Dean's Cup Challenge.
Held each February in conjunction with National Engineers Week, the Dean's Cup Challenge began in 2012 as a fun way for students from the college's eight different programs to engage in a series of friendly design competitions. The challenge culminates with the top three teams squaring off in a sled relay race on the Tsongas Center ice during intermission of a River Hawks hockey game, with the winning team getting its name engraved on the cup.
"Engineers Week is a time to celebrate our profession and allow our students to show off their talents while having some fun," says Joseph Hartman, dean of engineering.  "While the contests are friendly, they are highly competitive — which leads to some cool inventions like the T-shirt launchers and engineering art involving plastics."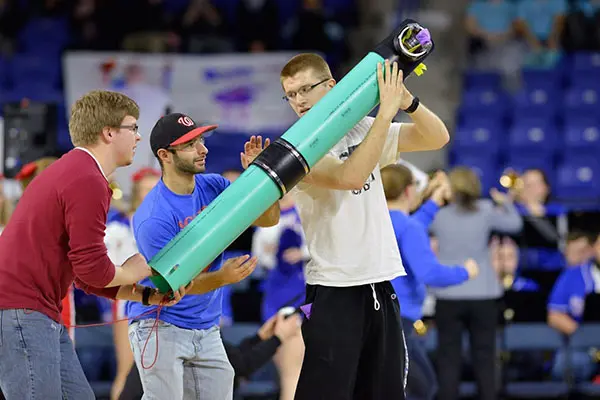 Dean's Cup Challenge participants launch T-shirts into the crowd at a men's basketball game.
This year's winning team, "Un-CIVIL-ized," was made up of six juniors majoring in civil and environmental engineering: Taiichi Ash of Rutland, James Basile of Lunenburg, Alex Buntin of Charlemont, Trevor Collins of Groveland, Michaela Fitzgerald of Dracut and Erica Hart of Billerica.
"We'd heard that civil engineering teams had won the last two years, so we wanted to keep up that tradition," says Fitzgerald, who found the week's biggest challenge was balancing the extra-curricular competitions with homework and lab reports. "I think we learned how to spend our time wisely."
Each of the daily engineering challenges — mechanical on Monday in the MakerSpace; electrical on Tuesday in Cumnock Hall; plastics on Wednesday in Ball Hall; chemical on Thursday in Cumnock; and civil on Friday in Cumnock — gave the teams one hour to build a solution using specific provided materials. For the chemical engineering challenge, for instance, teams were given clothes hangers, Popsicle sticks, rubber bands, spoons and tape and had to build a catapult to launch a marshmallow as far as possible.
Engineering students engage in fun, friendly competition during the annual Dean's Cup Challenge.
"It was interesting because, in the moment, you have to take what you've learned in class, and your own ingenuity, and try to make something out of it," Ash says.
"We're taking them out of their element and giving them a taste of different types of engineering," adds Nancy Ficarra, the college's coordinator of student events and programs, who started the competition as a way of reminding students that "engineering can be fun, too."
The T-shirt launcher competition, which took place during timeouts of the men's basketball game against the University of Albany at the Tsongas Center, was a new addition to the Dean's Cup Challenge this year. Teams had five days to build their launchers, which could use no more than 35 PSI of air pressure.
"We had a few leaks in the PVC pipe connections, so we could only get to 30 PSI with a little bike pump," Ash says. "We took third overall, but first place in design."
That helped Un-CIVIL-ized clinch a third-place finish in the academic competitions — and a spot in the sled relay finals during the second intermission of the hockey game.
The winning team of Un-CIVIL-ized, from left, Alex Buntin, Michaela Fitzgerald, Trevor Collins, Erica Hart and Taiichi Ash pose with their Dean's Cup.
"We got to embarrass ourselves in front of a sold-out crowd," Ash says with a grin, adding that he was the only team member to wipe out on the ice during the race.
After their victory, the team members received their trophy on the Tsongas ice from a blue-haired Hartman. As part of the Engineers Week festivities, Hartman agreed to color his hair blue if the college could reach 500 donations through the Francis 500 fundraising challenge.
"We are grateful to our athletics programs for allowing us to feature our students, and their inventions, at the basketball and hockey venues," Hartman says.