Commencement Paths Less Traveled
Meet four graduates who took nontraditional routes to pursue dreams
Each one of the record 3,720 graduates who received degrees at the 2016 Commencement exercises took a uniquely personal path to that day. Some were thousands of miles from home, while others were right down the street from where they grew up. Some were barely into their 20s, while others had children that age. Some were about to begin their first full-time jobs, while others were embarking on second or third careers. 
Here are snapshots of four graduates who took decidedly nontraditional paths to commencement day. Their stories, shared as they waited to march into the Tsongas Center to receive their undergraduate and graduate degrees, show that no matter where you are in your career, in your life or in the world, you can always keep learning.
Gene Bakinowski, Bachelor of Liberal Arts with concentrations in History and English  
Don't tell Gene Bakinowski it's ever too late to finish what you started. Nearly 50 years after enrolling at Lowell State College, the 68-year-old Bakinowski earned his bachelor's degree through UMass Lowell's Division of Online and Continuing Education (OCE). He had studied music at Lowell State back in the 1960s but dropped his education in favor of playing and performing. When the North Reading resident decided to start a new career later in life, he returned to his roots — where he finished his education despite being older than his professors.
"It feels great. I'm excited," Bakinowski says. "I started a new career in real estate appraising, and part of the requirement is to have a bachelor's degree. So I came here in 2012 and talked to (Advising Services Manager) Cathy Hamilton about what I needed to do. I was able to transfer credits from my Lowell State days and keep working full-time. It was a great decision."
Moses Muchiri, Master's in Peace and Conflict Studies
Moses Muchiri was going through some tough times in his native Kenya. His ex-girlfriend had just moved to Australia to pursue her MBA and he was feeling alone. Reading his local newspaper one day, he came across a mention of UMass Lowell. He'd never been to America before, but he decided to take a chance and come here to get his master's degree. Now he wants to take what he's learned back to Kenya and apply it through work in organizational leadership.
"The tools I've learned at UMass Lowell, they're so great," Muchiri says. "When I came here, I saw how the (political) system is so nice. I thought, 'Why can't we have this same change back in my country?' I love my country. I want to go back and create some change. I want to transform the way of life. That's why it's a great day for me."
Bryan Wilkins, Bachelor of Liberal Arts with concentrations in English and Psychology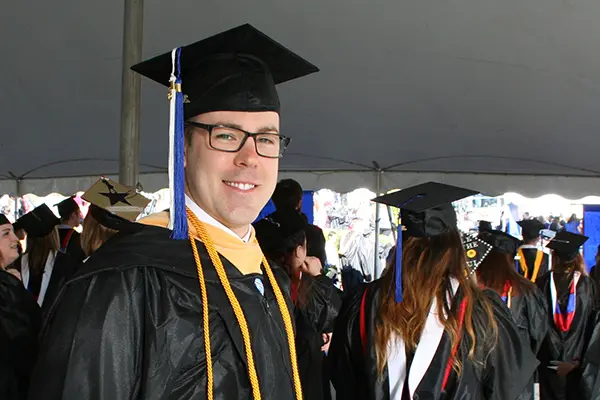 With an associate's degree in broadcast television, Bryan Wilkins has worked for the past decade as digital media producer at Lowell High School's educational television studio. But Wilkins realized he wouldn't be able to advance his career without a bachelor's degree, so the Lowell native spent the past six years working toward his BLA through the OCE program — while continuing to work full-time.
"It's been a long time coming but it feels great," Wilkins says. "It was challenging, but anything worth doing is going to be a challenge. To me, the understanding of the professors and the quality of the education made it worth my while. Getting another start later in life gave me an appreciation — first of all for paying for it myself, and second of all for actually seeing success."
Gloria Vincent, Bachelor of Psychology 
Gloria Vincent had never set foot on the UMass Lowell campus — until commencement weekend when she and her husband Howard brought their five children (ages 21, 18, 6, 5 and 2) up from Waterford, Conn., so she could receive her bachelor's degree, which she earned in four years online through the OCE program. Vincent, who works in mental health care, now plans to pursue her master's degree.
"I did all four years online from home, which wasn't easy with five kids, but it was worth it," Vincent says. "You have to stick with it every day; you can't skip a day. I looked around for different schools, and this was the program that I liked. Now it's done and I'm totally excited."