Choose Your Adventure at Campus Rec
Outdoor adventure program offers something for everyone
Matt Tannenbaum considers himself an "outdoorsy" type of person. So when the senior mechanical engineering major saw that Campus Recreation was offering students, faculty and staff an 11-day sea kayaking and camping trip to Florida over winter break through its Outdoor Adventure Program, he jumped.
"Not only do I enjoy kayaking and camping, but the idea of getting out of the city for a few days appealed to me," says Tannenbaum, who joined a group of nine students and staff members for the trip to Florida's Gulf Coast. "I'm certainly not qualified to do something like this on my own, though. I just don't have the experience or resources to pull it off." 
Fortunately for those like Tannenbaum who want a safe, organized and affordable way to enjoy the great outdoors — be it on a day or weekend trip around New England or a longer excursion to another part of the country — the Outdoor Adventure Program (OAP) provides the experience and resources to make it happen.
"The more people we can get outdoors and unplugged for a little bit, the better," says Kevin Soleil, Campus Recreation's assistant director of outdoor and bicycle programs. "A lot of people spend the week in front of a computer screen. For us to get out and smell the fresh air in the forest, stand on top of a mountain peak, jump in the surf or ski down a hill, that's a great break."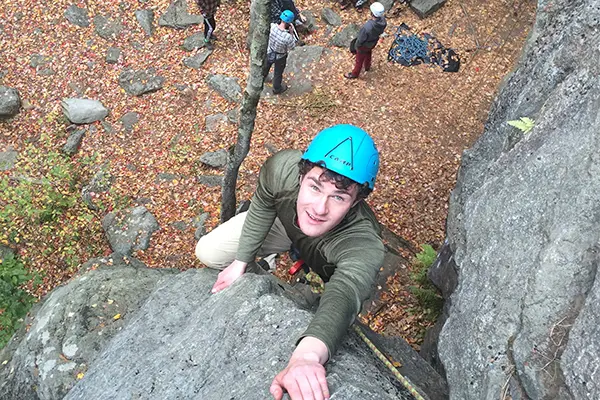 Students, faculty and staff can learn how to rock climb on an Outdoor Adventure Program trip.
The OAP, which updates its trip calendar each semester, offers regularly scheduled Tuesday night events like indoor rock climbing or local hikes for $10. On weekends the trips venture a little farther out, like an overnight ski and snowboard trip to Killington, Vt., in March ($240) or a two-day bike and camping trip to Cape Cod in April ($40).
And then there are the more ambitious trips like the recent one to Florida, or the upcoming Spring Break Southeast Rock Climbing and Hiking in Virginia, Tennessee, Kentucky and North Carolina, which will run March 12 through 18 for $375.
"You can do a lot of these trips with a commercial outfitter somewhere else, but our prices are so much lower because Campus Rec helps subsidize our program," says Soleil, who notes that the trip price covers transportation in OAP's 12-passenger van, equipment (such as tents, kayaks and life jackets), as well as food and lodging if necessary.
For those who want to go on their own outdoor adventure, without the guidance of trained university staff, the Campus Rec also offers 
gear rental
 available by the day, weekend or week.
All-Inclusive Experience
While climbing a mountain, riding a wave or kayaking through Florida's Ten Thousand Islands National Wildlife Refuge may sound like the stuff of a GoPro thrill-seeker, Soleil points out that every OAP trip is designed to include people of any ability.
"There's something for everybody," he says. "No matter your skill level, you're going to have a fun time."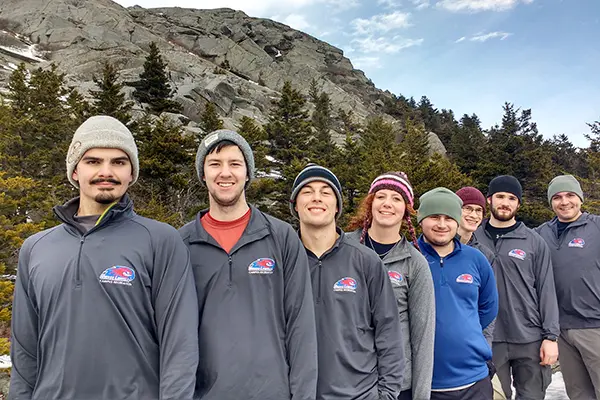 Campus Rec student-staff members pose for a photo while leading a recent day hike of Mount Monadnock in New Hampshire.
Graduate student Isabel Silvestre, who has taken part in several of OAP's trips around New England, joined the Florida trip despite being a novice kayaker.
"It was my first time doing so much kayaking, but it was the perfect workout," says Silvestre, who is pursuing her master's degree in chemistry. "And instead of feeling tired each day, I was so energized."
In addition to developing outdoor skills and environmental awareness, Soleil says it's that physical and mental exhilaration that participants get from pushing themselves beyond their comfort zones that makes the OAP so beneficial.
"There's a lot of personal growth happening, be it in a new social circle that's being formed, or just spending 10 days with the same 10 people, which can be a … growing experience," says Soleil, who adds that the trips are a great way for younger students to "expand their frame of reference and learn ways to navigate collegiate life" from older students with whom they might not normally interact. 
Life's a Beach
For the Florida trip, four of the participants opted to buy their own plane tickets and fly to Tampa, while Soleil, staff member Brock Pfaff, student-staff member John Lessard and the rest of the group made the three-day drive in the OAP van, towing a trailer loaded with nine kayaks.
"That was like a whole other trip," Soleil says. "We crossed Chesapeake Bay, drove through the rural South, camped out on the Georgia coast. We got to see a lot of different parts of the country."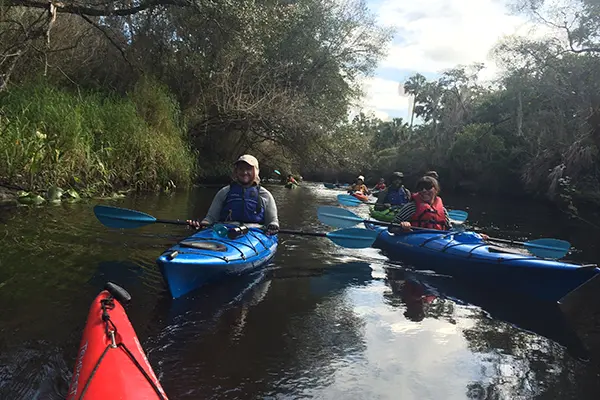 Kayakers enjoy a leisurely float down a waterway during the Outdoor Adventure Program trip to Florida.
Once the group was together in Tampa, it drove south to Goodland, Fla., and launched the kayaks in the Ten Thousand Islands refuge. For the next four days they paddled from Jackfish Island to White Horse Key to Camp LuLu, catching glimpses of alligators, turtles and frogs along the way. They landed on a new beach each afternoon, setting up camp before relaxing in a hammock with a book or going for a swim. After preparing dinner ("Greek Night" included falafel, couscous and hummus), they rested up for the next day's mid-morning launch. 
"I enjoyed the 'engineered adventure' of it, of having that safety net of experienced people with me," says Tannenbaum, who is looking forward to his next OAP outing. "The trip allowed me to push my comfort level and gain experience because they knew what they were doing."
"I like the opportunity of meeting people from different backgrounds and cultures and exchanging ideas," Silvestre adds. "I take advantage of the excursions because in some way they make a stronger person both inside and out."