Business Students Hone Presentation Skills
Honors professional communications class takes stage at BAE systems
BAE Systems is one of the largest defense and aerospace contractors in the world, with headquarters in London and operations across the globe.
It's also where a few lucky 
Manning School of Business
 sophomores in the Honors section of the professional communications course get to deliver semester-ending group presentations on cultural competency each year — to an audience of nearly two dozen BAE finance directors, managers and employees.
Anna Montgomery, a business administration major from Andover, was one of 19 students from visiting lecturer 
Olga Tines
' honors course who presented at BAE Systems' Technology Solutions office in Merrimack, N.H., in December. She says taking the auditorium stage with her team of four to make a half-hour presentation was a confidence-building moment that she'll carry with her into her future career.
" It pushed me out of my comfort zone and provided an experience that most college students don't get," says Montgomery, who has a dual concentration in management information systems and management. "The feedback we received from BAE Systems employees was very helpful. It gave me a lot of insight into how a professional presentation is different from one in college."
"It pushed me out of my comfort zone and provided an experience that most college students don't get."
— Anna Montgomery
Tines, who worked as an organizational effectiveness consultant at BAE Systems' Nashua, N.H., location from 2003 to 2011, began taking her honors students to the company three years ago. While the company has well-established ties with the 
Francis College of Engineering
, Tines says many of her business students had never heard of BAE Systems, let alone considered it a place where they could intern, co-op or build a career.
"This year when I asked the group, 75 percent said absolutely they would want to work there. So it's a huge shift from three years ago," says Tines, who hopes to see a pipeline develop of potential employees between the Manning School and the company. "Ultimately we'd like to make this presentation an opportunity for them to get first crack at grabbing some of our best and finest students."
Christina Shane, a business administration major from Boxboro and member of the university's 
Professional Cooperative Education Program
, says one of the things she worries about when looking for a co-op or internship is fitting into a company's culture. After just one morning at BAE Systems, Shane says she could picture herself working there.
"I actually felt comfortable with their employees," says Shane, whose concentration is in supply chain and operations management. "I was happy to see people there in entry-level positions with the same zest I have toward learning, as well as a passion for technology."
Students begin the semester-long project by researching where BAE Systems does business around the world, looking at what it produces, how much revenue it generates and how its operations are structured. Each group then selects a country on which to focus (Australia, China, Israel and the United Kingdom are usually popular, Tines says). The presentation is then framed around cultural customs that a BAE Systems employee would want to be aware of when doing business there.
"If you're in a meeting, for instance, there may be a protocol around how you lay out your business card — little subtleties that show you're honoring the culture," Tines says. "It's important for students to connect the dots and say, 'This would be interesting to you if you were to send people there.' "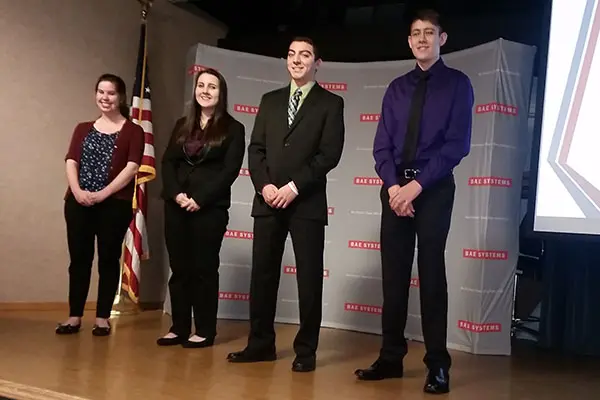 Honors professional communications students from the Manning School of Business make their presentation on cultural competency at BAE Systems.
Not only did the BAE Systems employees applaud the students' presentation skills, but Tines says several in the audience acknowledged they learned something new about their own company.
"I think it's been a bilateral relationship that's worked out pretty well," says Tines, who sees the experience building on the university's "work ready" theme. "Since they're relatively young in terms of work experience, we want to give them something that demonstrates their ability to hold their own in a corporate environment. We want to produce students who can go talk in the boardroom of a multinational firm if they have to."
Meghan Driscoll, a marketing major from Walpole, is grateful for the opportunity.
"I thought it was beneficial to step into a real-world environment," she says. "I feel more prepared to make presentations in the business world now. I won't feel like I'm being blindsided by the experience.